Sometimes headlines can be a bit too effective.
I realized this in the grocery store of all places.
Everything was going great.  My stomach growling, I scurried around stuffing items into a basket.  Somehow I avoided all the screaming children and wayward carts along the way.
When it was all over I felt like Frogger after crossing a 12-lane superhighway.  I had everything on my shopping list.  It was time to check out.
The shortest lines were still a few people deep.  After I surveyed the scene, I picked one and prayed it would move fast.
And so began an excruciating ordeal…
Everyone in Front of Me Was Too Busy Gawking at Magazine Covers to Push Their Carts, Unload Their Groceries, or Generally Help Move Things Along
This infuriated me.  And the worst part about it is how I was the only one in line concerned about this.  Everyone else was too busy trying to find out what Lady Gaga wore to the gym last week to care.  Even the cashier cut these shoppers some slack when they lingered in line… she was used to it!
Eventually I made it out, my mind full of frustration and misanthropist thoughts.  Not one of my finer moments…
Looking back on that evening made me realize just how stupidly powerful great headlines can be.  They were so compelling people couldn't resist them if they wanted to.  And even tired, frustrated commuters were susceptible.
That's not cause for concern about the human race.  It's a learning opportunity in disguise…
February 2013 Magazine Covers: A Case Study
So, it's with great pleasure that  I present to you the first installment of my magazine "headlines" case study: February 2013 magazine covers.
I hope to make this a monthly thing because I think there's a ton to learn by seeing what works in real life.  If you want to take this to the next level, copy these headlines down to take advantage of neural imprinting.  It's the best way I know to take tried and true principles and internalize them on a deep level.
Ready?  Here are the headlines from the the covers of the Top 10 magazines by circulation in the United States (Note: I omitted Time and People magazines because they're weekly issues) along with my comments for each:
10.  Taste of Home (February/March 2013 Issue)

Headlines Rating: 5/10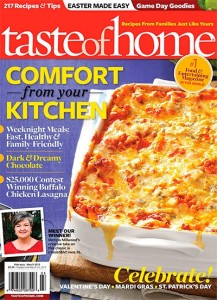 217 Recipes & Tips
Easter Made Easy
Comfort From Your Kitchen
Weeknight Meals: Fast, Healthy & Family-Friendly
Dark & Dreamy Chocolate
$25,000 Contest Winning Buffalo Chicken Lasagna
Celebrate!  Valentine's Day – Mardi Gras – St. Patrick's Day
Comments: The headlines from this issue of Taste of Home are decidedly average.  While some of them make use of classic headline principles (like the 217-item list headline), the benefits in most of them are too vague to be compelling.  The most prominent headline, "Comfort From Your Kitchen," is wasted because I don't know exactly what that means… or what I will get from reading more.
Favorite Headline: "Weeknight Meals: Fast, Healthy & Family-Friendly."  This headline draws me in because the implied benefits it offers are specific enough to see what I will get (fast, healthy ideas for weeknight meals) if I read the article inside.  Seems like just the type of thing the Taste of Home readership would go crazy for.
9.  Woman's Day
Headlines Rating: 8/10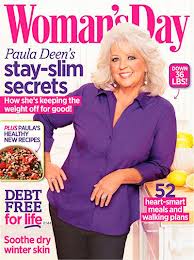 Paula Deen's Stay-Slim Secrets: How She's Keeping The Weight Off For Good!
Down 36 Pounds!
Plus Paula's Healthy New Recipes
Debt Free for Life
Soothe Dry Winter Skin
52 Heart-Smart Meals and Walking Plans
Comments: This was a solid issue for Woman's Day.  The headlines stick to classic headline principles of: 1) Promising a benefit or solution to a problem; 2) Discussing things that are new or newsworthy; and 3) Invoking a healthy dose of reader curiosity.  You don't see any "experimental" headlines here… only stuff that's been proven to work.
Favorite Headline: "Paula Deen's Stay-Slim Secrets: How She's Keeping the Weight Off For Good!"  This headline is a lethal combination of implied benefit (learning how to keep weight off "for good") and curiosity (the "secrets" of staying slim).  It implies that this secret knowledge can help you how lose weight too.  Beyond that, the headline borrows Paula Deen's celebrity (I actually wrote a post about her and butter of all things…) to enhance credibility. 

8.  National Geographic
Headlines Rating: 8/10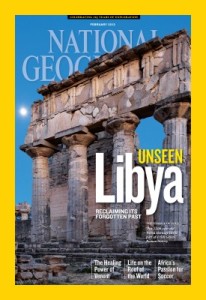 Unseen Libya: Reclaiming its Forgotten Past
The Healing Power of Venom
Life on the Roof of the World
Africa's Passion for Soccer
The Temple of Zeus: This 2,500-Year-Old World Heritage Site is Part of a Rich Greco-Roman History
Comments: The headlines from this month's issue are heavy on curiosity.  That's the perfect match for the average National Geographic reader who doesn't read to solve serious problems, but to explore new places, satisfy curiosity, and be entertained in the process.  And that's exactly what these headlines promise.
Favorite Headlines: "The Healing Power of Venom."  I love this headline!  It combines an implied benefit (healing power) with an insane amount of curiosity (venom…really?).  "Healing" is the last thing that comes to mind when you think of venom.  This headline scrambles the reader's brain so much they have to read on to figure out what the fuss is about.
7.  Family Circle
Headlines Rating: 8.5/10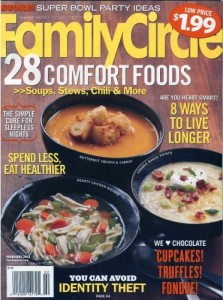 28 Comfort Foods: Soups, Stews, Chili & More
Score!  Super Bowl Party Ideas
Are You Heart Smart?  8 Ways to Live Longer
The Simple Cure for Sleepless Nights
Spend Less, Eat Healthier
We <3 Chocolate: Cupcakes!  Truffles!  Fondue!
You Can Avoid Identity Theft
Comments: The first thing I noticed was how much value these headlines offer.  A glance at the cover says I can live longer, sleep better, make delicious food, and avoid identity theft?  Sounds like a plan!  These headlines are simple, but they're powerful because they stick to the basics.  I would have rated them even higher if it weren't for that silly headline about chocolate…
Favorite Headline: It's a tough call, but I have to go with "The Simple Cure for Sleepless Nights."  There's no nonsense here.  You have a problem (you can't sleep) and this headline offers a solution (a simple cure).  It's a no-brainer for you to want to read more.
6.  Good Housekeeping
Headlines Rating: 6.5/10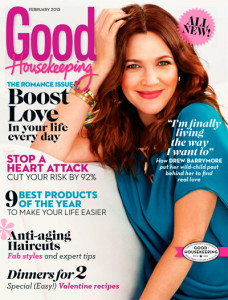 Boost Love in Your Life Every Day
Stop a Heart Attack: Cut Your Risk by 92%
9 Best Products of the Year: To Make Your Life Easier
Anti-Aging Haircuts: Fab Styles and Expert Tips
Dinners for 2: Special (Easy!) Valentine Recipes
Comments:  I didn't include the quote by Drew Barrymore because it didn't seem like a "headline" to me.  This issue wastes her celebrity power because it doesn't tie it to an implied benefit for the reader.  Other than that, most of the headlines were pretty solid.

Favorite Headline: "Anti-Aging Haircuts: Fab Styles and Expert Tips."  This one was compelling because it combines an implied benefit (looking younger) with curiosity (using a haircut to look younger).  Who would have thought a simple haircut is all it takes to make you look younger?  "I have to read more to find out," says the reader.  And so they do…
5.  Reader's Digest
Headlines Rating: 9/10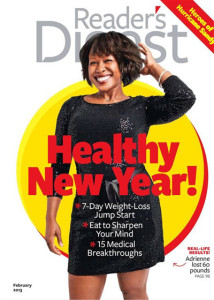 Heroes of Hurricane Sandy
Healthy New Year!
7-Day Weight Loss Jump Start
Eat to Sharpen Your Mind
15 Medical Breakthroughs
Real-Life Results: Adrienne Lost 60 Pounds
Comments: Reader's Digest is known for having solid headlines and this month's issue is no exception.  The headlines stick to the beaten path of benefits, news items, and a little curiosity thrown in.  Every headline on the cover offers at least one of those 3 elements.
Favorite Headline: "7-Day Weight Loss Jump Start."  This one is my favorite because it implies a strong benefit (weight loss) without promising the reader the moon.  It doesn't sell you on some kind of miracle weight-loss diet; it gives you a week-long "jump start" to a healthier life.  This type of realistic benefit is a lot more believable than most of the other diet hype out there.
4.  Better Homes and Gardens
Headlines Rating: 6/10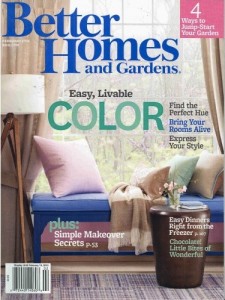 4 Ways to Jump-Start Your Garden
Easy, Livable Color
Find the Perfect Hue
Bring Your Rooms Alive
Express Your Style
Easy Dinners Right From the Freezer
Chocolate!  Little Bites of Wonderful
Plus: Simple Makeover Secrets
Comments: These headlines were all over the place.  Some of them did a nice job of showing the reader how they would benefit if they bought the magazine and read the articles.  But others just didn't make a lot of sense.  Things like "Bring Your Rooms Alive" or "Express Your Style" just weren't concrete enough to catch my attention.  And another stupid headline about chocolate!
Favorite Headline: "4 Ways to Jump-Start Your Garden."  This headline was simple; I didn't have to waste time or effort trying to figure it out.  And it promised me something (a better garden) in exchange for reading more.
3.  Game Informer
Headlines Rating: 0/10 – MAJOR FAIL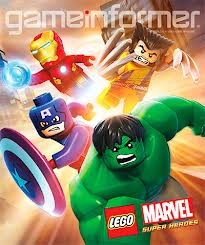 Lego: Marvel Super Heroes
Comments: When it comes to headlines, this month's issue of Game Informer was a complete disaster.  I understand they cater to a younger crowd that might be drawn in by the cool picture, but ignoring headlines completely is inexcusable.  The cover doesn't reveal what someone will get from picking up the magazine and reading more.
Favorite Headline: None!  I'm not even sure "Lego: Marvel Super Heroes" is a headline at all.  Even though it's the only thing printed on the cover besides the magazine's title, it doesn't imply a benefit, describe a news item, or invoke curiosity in any way.
2.  AARP Bulletin (January/February 2013 Issue)

Headlines Rating: 5.5/10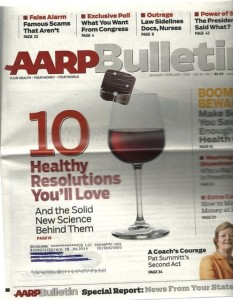 10 Healthy Resolutions You'll Love: And the New Science Behind Them
Boomer Beware: Make Sure You Save Enough for Health Care
Washington Showdown: Why a Big Deal is Possible
Extra Cash: How to Make Money at Home
A Coach's Courage: Pat Summitt's Second Act
False Alarm: Famous Scams That Aren't
Comments: Just like with Better Homes & Gardens, the headlines here are too inconsistent to warrant a higher rating.  To be fair, the bulletin is more of a newsletter for existing members than a traditional magazine (see below).  The headlines are heavy on current events, but their vagueness limits their appeal.
Favorite Headline: "Extra Cash: How to Make Money at Home."  This one's my favorite because it implies a benefit (making more money) and it's simple.  No one has to try to decipher it or figure it out.  One more thing: the appeal is strong because a lot of people who read the AARP Bulletin are thinking about retirement, healthcare, and making ends meet in a tough economy.
1.  AARP The Magazine (February/March 2013 Issue)

Headlines Rating: 9/10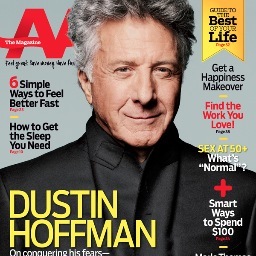 Guide to the Best of Your Life
6 Simple Ways to Feel Better Fast
How to Get the Sleep You Need
Get a Happiness Makeover
Find the Work You Love!
Sex at 50+ : What's "Normal"?
Smart Ways to Spend $100
Dustin Hoffman on Conquering His Fears
Comments: Headline gold in this one.  All the headlines I can see on this cover (I might have missed 1 or 2 because the bottom is cut off) are easy to understand, rely on timeless appeals, and promise a lot of value to AARP members.  "Guide to the Best of Your Life" is a little unclear, but all the others are rock solid.
Favorite Headline: "6 Simple Ways to Feel Better Fast."  O.K.  I admit it.  I'm a sucker for simple headlines.  But this one hits on a valuable solution that many seniors struggle with (not feeling well).  And the 6-point list is compelling because people are drawn to tidbits of information broken down into lists.
Until Next Time…
I hope analyzing these magazine covers will help you write better headlines.  By studying what's working already (and what's not working), you're internalizing the mechanics behind writing kick-ass headlines.  Write these headlines down, add them to your swipe file, and keep your eyes and ears open!
Looking forward to my March 2013 survey… coming soon.
P.S. Which headlines were your favorite?  Which ones did you hate the most?  Leave me a comment and let me know!