What Copy Arc Is All About…
Hi, I'm Corey Pemberton, the founder of Copy Arc. I use words to help you grow your business online.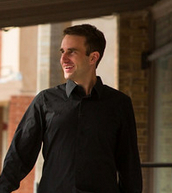 But enough about me for now…
Let's talk about what you'll find on this website and how it's useful to you.
I started Copy Arc to address a series of specific questions. Maybe you've found yourself asking these questions if you've struggled to grow online.
If you've ever asked yourself…
"What's the best way to get noticed in an insanely competitive online space?"
"How can I simplify complex technology in a way that people appreciate and understand?"
"How can I use content to get noticed and resonate with people I want to become my customers?"
"How do I connect with people on a human level and get them to know, like, and trust me (without breaking the bank on advertising)?"
You're in the right place.
A Recipe for Remarkable Content
Software is the future.
That's undeniable as we shift into an era of AI, automation, and computer chips so small they make your head spin.
But the demands of running a profitable software business have never been higher. Technology is becoming more complex. New avenues are opening up to create value. The challenge lies in translating all that value into terms your audience can understand.
You have a lot going on. I get that. Run-of-the-mill marketing advice might have worked a decade ago… but not anymore.
That's why you won't find generic content marketing advice here. Instead, you'll see how to use storytelling strategies to captivate visitors and make more sales.
This actionable advice is delivered in short, easy-to-digest chunks. I distill concepts into simple terms so you can take away the juicy parts – no matter how busy you are.
Intrigued? You should download a free copy of my "7 Storytelling Secrets to Captivate Your Customers" report! It shows you how what master storytellers can teach you about grabbing valuable attention and persuading the right people to buy…
Why Storytelling?
Have you ever found yourself sucked into a really good movie or book? You know how time just slips away? You blink and it's 3 a.m.
That's the power of storytelling. It worked for Homer. It works in Quentin Tarantino movies and George R.R. Martin books, and no change in technology will stop it from working going forward.
In the words of Margaret Atwood:
You're never going to kill storytelling because it's built into the human plan. We come with it.
Done strategically, storytelling is the ultimate marketing tool. You can use it to stand out from competitors and captivate visitors. By making them the hero in your marketing stories, you can connect with them emotionally and motivate them to buy.
That's how the name "Copy Arc" was born. Combine "copy" from persuasive content and "arc" from story arc, and you get a powerful formula for online success.
Most of your competitors are missing out on this. But you don't have to. Just enter your email and hit "Go" to get your "7 Storytelling Secrets to Captivate Your Customers" report and other exclusive content.
About Corey Pemberton
Optimist. Lover of simplicity, quality over quantity, and living the good life. Work hard, but play hard too. Stares at the clouds a lot. Juggling building castles in the sky with living in the moment.
I'm all about quality and getting things done when you need them. Just ask for what you need, and I deliver. No need to hold my hand along the way.
A little more about me…
Things I like:
1. Traveling (thanks, J.K.)
2. Reading and writing fiction
3. Hiking, camping, paddle boarding, and everything outdoors
4. Nicaraguan cigars
Things I don't like:
1. People who take themselves too seriously
2. Clickbait culture
3. Slow drivers
4. Mayonnaise
Go to my services page for more info about exactly how I can help take your business to the next level. Simply fill out the form on that page and hit the "Send" button, and I'll get back to you right away. We'll get the ball rolling and see if we are a good fit.
If you want to know anything more about me or my work, just ask. I do like curious people. And I'm sure we can overcome our taste differences in condiments.
All the best in your business ventures,

P.S. Didn't download your free "7 Storytelling Secrets to Captivate Your Customers" report yet? No problem. Just enter your email and hit "Download Report" to grab a free copy right away.